On-Demand Transit - expansion March 2, 2021
As of March 2, 2021 riders can request a trip to and from any transit stop within the expanded service area, Monday to Friday from 6:30 a.m. to 1:30 p.m., transfer-free.
Simply request a trip usuing one of the methods below and a bus will pick you up at the stop of your choice and drop you off while servicing other riders.
EXPANDED SERVICE AREA:
Check out the on-demand area.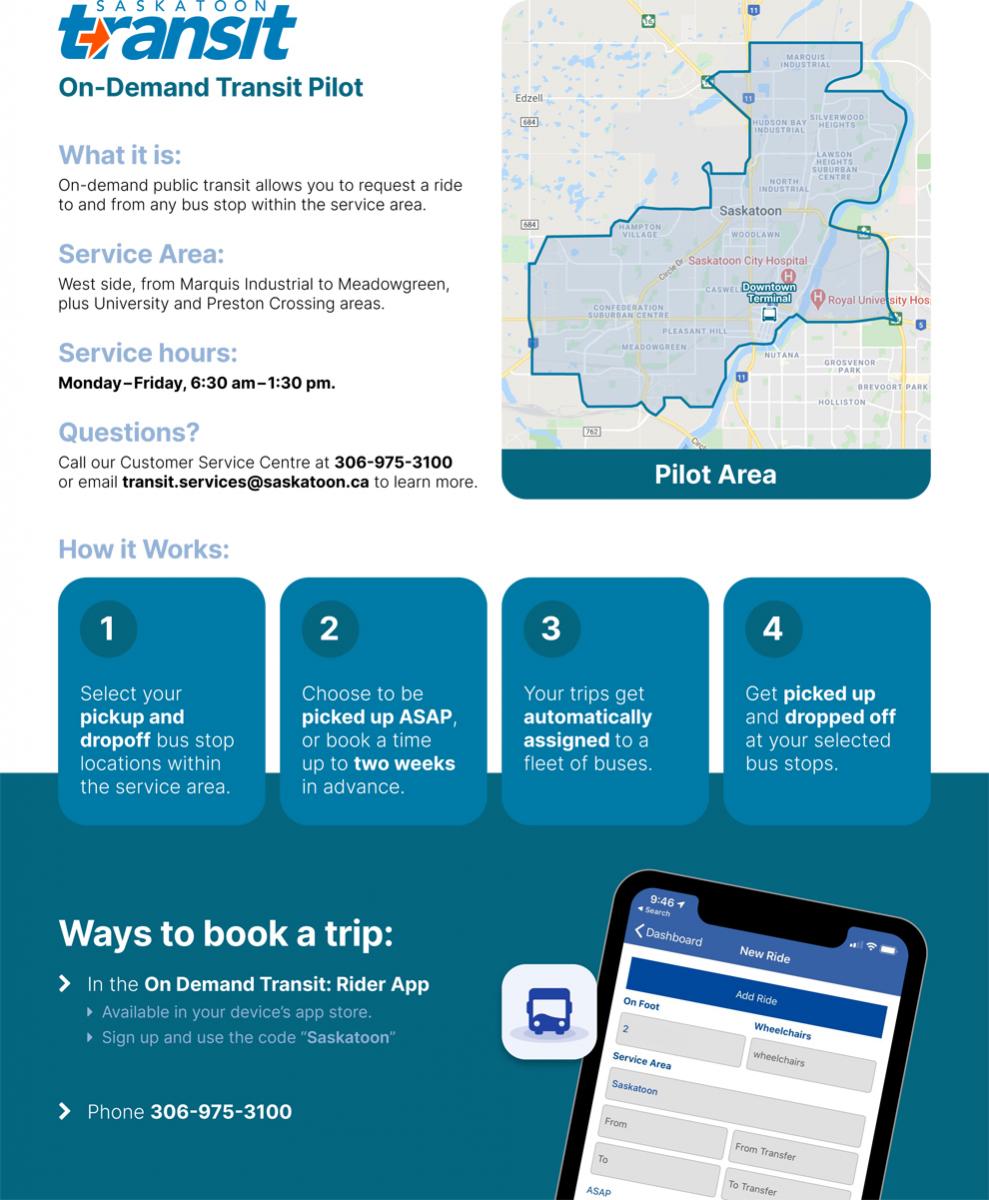 WHEN:
You can request trips for Monday to Friday from 6:30 a.m. - 1:30 p.m..
Requests can be made for up to two weeks in advance or for as soon as possible (ASAP).
BOOKING A TRIP: 
Download the "On-Demand Transit" app and use the code Saskatoon or
Visit the website or
Call 306-975-3100 (7:00 a.m. - 7:30 p.m.) 
You will have to sign up first and then you can request a trip.
DOWNLOADING & USING THE APP:
Download the app from Google or Apple, and use the code Saskatoon.
Options to book your trip:
Option 1: Choose the two stops you are traveling between, the number of seats your party needs, and the time you would like to be picked up.
Option 2: Choose the "appointment" option so that the time you choose is your drop off time. 
LEARN MORE: 
If you have questions about On-Demand Transit, give Transit Customer Service a call at 306-975-3100 or email (transit.services@saskatoon.ca). They can help you learn more about requesting a trip and guide you through the process of downloading the app.
COST:
Regular transit fares apply.
ACCESSIBILITY:
Spots can be reserved for wheelchairs/mobility devices.
NOTE:
No devices or mobile data is required. If you aren't able to use the apps or dial in, you can also board the bus and simply tell the driver which stop you would like to visit.